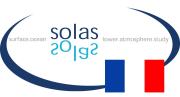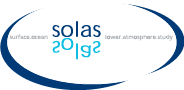 SOLAS FRANCE
---
SOLAS - France 2015 open meeting
Mid term strategy and topics renewal
SOLASFrance open meeting will occur in Paris in June 2015 29th at IPGP. Salle Outremer (P07) The conference will start at 10:00 AM with a welcome coffee at 9:30 allowing morning travel for people.
This workshop is open to a large communityi and will cover all SOLAS topics with new science plan for the next ten years.
Main topics
- Greenhouse gases and the oceans
- Air sea interface and fluxes of mass and energy
- Atmospheric deposition and ocean biogeochemistry
- Interconnections between aerosols, clouds and ecosystems
- Ocean biogeochemical control on atmospheric chemistry.
+++ crosscutting topics: integration, geoengineering, society
Please read the program of the day
the registered participants
the abstracts with full authors list
and the talks as pdf at a glance
---
More details about SOLAS Science plans here