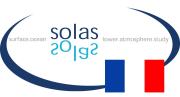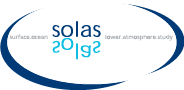 SOLAS FRANCE
Here is the SOLAS-France reports and posters repository
Follow this link for SOLAS events
---
SOLAS Open Science Conference Kiel (Germany), 8 to 11 September 2015
A ketnote talk was given by Karinne Sellegri (LaMP, Clermont-Ferrand, France) "Marine aerosols emissions related to the seawater biogeochemical composition" *. One special session was convened by R. Losno and E. Journet (Nutrients supply to Southern Ocean surface). Introduction talk is available here (600 ko). In addition to "SOLAS-France", 12 posters or talks are presented and some are stored here.
---
SOLAS Open Science Conference Cle Elum (WA, USA), 7 to 10 May 2012
A talk is given by Sophie Bonnet (IRD, MIO) "Dinitrogen fixation above Oxygen Minimum Zones" PDF (3.2 Mo). One special session is co-convened by R. Losno (Impact of dust and ash on ocean productivity). In addition to "SOLAS-France", 8 scientific posters are presented and stored here:
---
SOLAS Open Science Conference 2009, Barcelone (15-19 novembre 2009)
Cécile Guieu (LOV, Villefranche sur Mer) y a donné une conférence sous le titre: Impact of atmospheric inputs on oligotrophic ecosystems. La communauté française a participé à ce congrès avec 9 posters:

The project ChArMEx – the Chemistry-Aerosol Mediterranean Experiment (F. Dulac)
Deposition of trace metals and metalloids on Kerguelen Island in the remote
Southern Ocean (R. Losno)
Decadal variations of sea surface fCO2 observed in the Southern Ocean (N. Metzl)
Effect of different atmospheric organic acids on iron dust solubility (R. Paris)
Saharan dust enhances bacterial mineralization of dissolved organic matter in
the oligotrophic Mediterranean Sea (E. Pulido-Villena)
Impact of a Saharan dust input on primary production and N2 fixation in
Mediterranean Sea (C. Ridame)
Importance of UV radiation for the production of non-methane hydrocarbons
and carbon monoxide by phytoplankton (S. Tran)
Coupling rainwater inputs, iron speciation and biological activity (F. Chever)
CO2, O2 and nitrogen loss in the Namibian Upwelling System: a modelling
approach (I. Dadou)
---
Open Science Conference à Xiamen, Chine (6-9 mars 2007)
La communauté française a été très présente à ce SOLAS Open Science Meeting. Un poster (dont l'abstract est disponible en ligne) résumant les actions entreprises au niveau national y a été présenté. Un certain nombre des interventions françaises à ce meeting sont disponibles sous la forme de fichiers pdf ici.
---